ACS | Chicago
ACS provides our corporate clients the very best service and consistently delivers the best in World Class Transportation.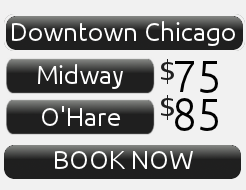 ACS serves Chicago and contiguous airports: Chicago O'Hare International Airport [ORD], Chicago Midway Airport [MDW], Dupage Airport [DPA] & Waukegan Reginal Airport [UGN].
Reserve On-Line or Call Us At 866-506-8997 for all your Chicago Limo Services, Midway Airport Service and O'Hare Airport Service.
RATES
| Vehicle | Class | Hourly Rate | Minimum Hours |
| --- | --- | --- | --- |
| Sedan | Corporate | $65.00 | 2 Hour |
| Sedan | Executive | $85.00 | 3 Hour |
| SUV | Executive | $85.00 | 3 Hour |
| Stretch [6 Pass] | Executive | $85.00 | 3 Hour |
All reservations that are billed on an hourly basis, will be billed a minimum of thirty minutes travel time (portal time) each way plus the time the passenger is in the vehicle.
Fractions of an hour are charged in half-hour increments.
Rate does not include 20% Gratuity, Fuel Charges, Airport fees and 2 way Tolls.
Mileage rates of $1.75 per mile for Corporate Sedans, $2.00 per mile for Stretch Limo's and $2.25 per mile for Executive Level Sedans or Vans will be applied when mileage cost exceeds the Hourly Rate.
Add $20.00 for all transportation between the hours of 12:00am and 5:00am
24 Hour Service
Airport Transfers
Point-Point Transfers
Hourly Service / As Directed
Corporate Road Shows
Airport Concierge / Greeter Services
Daily Charters / Dedicated Service
Nationwide services
City to City Service
Tours and Sightseeing
Private Aviation

Book Now
Airports Serviced
ACS serves the following airports and cities/areas in the Chicago area.
Chicago O'Hare International Airport [KORD]
Chicago Midway Airport [KMDW]